Change of personnel

Sadly René Steuns has had to take a permanent vacation from TPM, due to personal/family problems and commitments. We are however absolutely delighted to announce that we have now been joined by the multi-talented musician/producer/composer Matthew Leigh Embleton. We have been enormous admirers of Matthew's work since his 'Turning Point/World Radio' album as 'Snakestyle', and his latest 'semi-classical' release 'For Lute & Laptop', are beautiful unique and inspired.

Matthew has brought a whole new fresh, inspiring sense and feel into the TPM alchemy, as a musician/producer/arranger/composer, he has a rare and unique gift and sensitivity! Recording the new 'Garden Of Dreams' album, has been a beautiful and inspired journey to create the album we had always wanted to make, and his artistry and sensitivity has played a major role in this.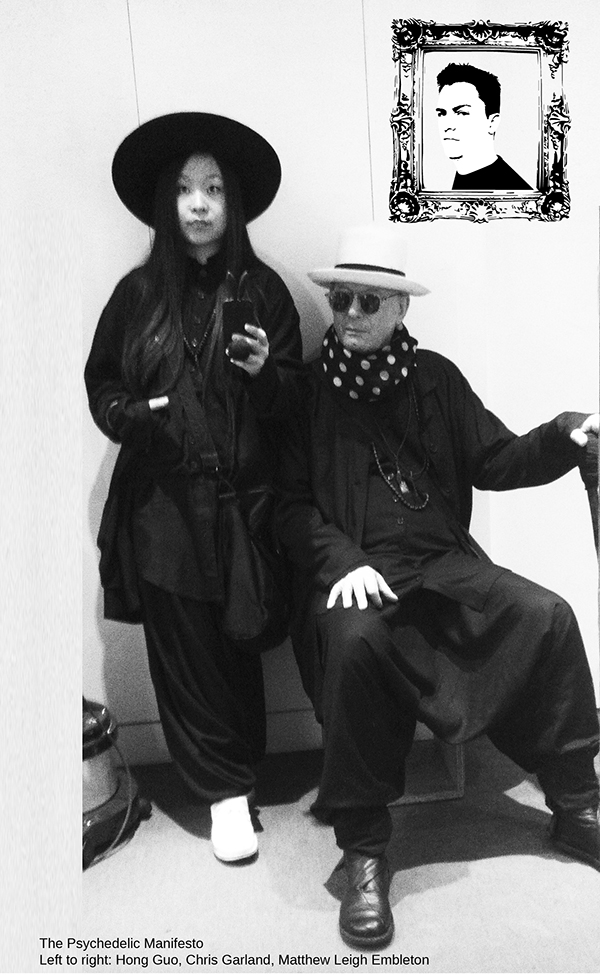 New album: Garden of Dreams

A year in the making, the new album 'Garden Of Dreams' maintains much of the TPM 'signature' but deliberately moves away from the spaced out trippy danceable grooves of the 'Lysergic Sushi' album and the polished produced sound of 'Sometimes You Can Hear The Angels Cry', into a gentle flowing, trippy, soothing, healing sonic alchemy, beautiful melancholy vocals that lift transport and carry the listener off on a gentle hallucinogenic journey. The album is extremely accessible and beautifully sung with great songs that verge on the poetic and more than justify the bands intention of delivering 'a surrealistic pillow' to heal both troubled mind & body'!



'Post Dubstep/Trip-Pop Electronica/Ambient Dub' - 'Kraftwerk Meets Bach & King Tubby On Acid'!'

The Psychedelic Manifesto is a London based Ambient Dub/Ambient Dubstep/Trip-Pop Electronica trio which emerged originally as a duo in Germany as part of the post 90s German electronica scene and later relocated to London.

They comprise of:
Chris Garland: singer, songwriter, composer, artist, producer: writer from an art, music, design background, a committed Buddhist (of the Zen-school). Chris was born in the UK spent much of his life living abroad and now resides in London.

Hong Guo: artist, designer film maker animator, science graduate, classical pianist and choral singer, born in the Peoples Republic of China (Beijing), now based in London.

Matthew Leigh Embleton: composer, producer, musician, 'sonic architect'.

René Steuns: Appears on the first 2 albums.



NAME: The Psychedelic Manifesto is a reference to British writer and philosopher Aldous Huxley who's book The Doors Of Perception, was Huxley's Psychedelic Manifesto.


EMOTIONAL ARCHITECTURE: Garland, Guo & Embleton see themselves as 'Emotional Environmentalists' and their music as 'Emotional Architecture' and music itself as a 'Healing Process'. They also see themselves as entirely unconnected with much of contemporary music, which they see as meaningless rather ugly noise. Admirers of The 'Strawberry Fields Forever/I Am The Walrus' Beatles, King Tubby, Kraftwerk, Air, Talk Talk Talk, Scritti Politti, Bach, and classical coral music, they feel music should not demand shout or impose but rather reflect the beauty and sadness of everyday life, transport the listener and attempt to deliver an uplifting memorable experience.

They are famously disinterested in 'promoting themselves' and prefer (as they would have it) to simply 'allow things to happen'.

Live Performance: In an early incarnation, (also featuring René Steuns) shortly after relocating from Germany to London, They were known simply as 'Manifesto', although the 'dub factor' was always very much 'there' this early version of the band had a considerably more 'German industrial almost gothic' edge to it, and in this form they undertook a number of successful live performances. However the band very soon moved on from this into their present form as The Psychedelic Manifesto. In this form they have not as yet to the disappointment of the numerous fans who regularly contact them, performed live. Live performances however are now being considered.

The Psychedelic Manifesto debut album LYSERGIC SUSHI was released on the highly respected Edinburgh based independent label Alex Tronic. This album was initially only available in online formats but has since it's appearance in 2009 achieved considerable status and become something of a cult classic amongst electronica train spotters. In the opening weeks of its release It occupied the #1 spot on iTunes France and the enormous number of illegal acquisitions of the album certainly attest to its popularity, although unfortunately not benefiting the artists or label financially, this was certainly an ironic compliment to the albums status. Due to considerable demand the LYSERGIC SUSHI album was finally released on CD in November 2009 and since then has enjoyed healthy sales and excellent reviews.


GENRE: In terms of genre The Psychedelic Manifesto can be placed in the more art-pop end of ambient dub-step electronica, it is however difficult to categorise them as they seem to have fallen into a style very much of their own, as you would expect from a band whose reference points and influences run from Bach and Kraftwerk to King Tubby and Tangerine Dream. Certainly the 'dub-factor' is a key element, as you would expect from someone like Chris Garland who has in the past worked with many of the great Jamaican artists and is an ex partner of Adrian Sherwood with whom in the early 80's, he created the classic ground breaking iconic 'psychedelic dub' album 'Starship Africa'.


'EMOTIONAL ENVIRONMENTALISTS': Chris Garland is the songwriter, singer, co-composer/co-producer, along with sonic alchemist Matthew Leigh Embleton and vocalist Hong Guo. René Steuns also appears on the first two TPM albums.

The list of Garland's former musical output is considerable but he allows creating the legendary and hugely influential STARSHIP AFRICA album together with his then partner producer Adrian Sherwood back in the early 80's as a significant moment, and being the guiding architect of (now) cult punk funk 80's band Medium Medium (of hungry so angry fame); working with Jamaican legend Prince Far I and many other legendary Jamaican 'Roots' artists; fronting (with partner Ilona) and creating the notorious 80's 'Electro Pop / 'Anglo German Sex Beat'' band UBahnX for EMI UK; creating the equally notorious German 'Cyber Punk' legends The Trash Groove Girls with the conspiratorial assistance of Marc Chung of Einsturzende Neubauten. Producing M.E.L.T's inspired 'Electro-Trance/Rock' cover of Kraftwerk's 'Radioactivity in the late 80's now considered one of the great cult classic trance tracks and Indeed by many as possibly the first 'trance anthem' a favourite of legendary DJ Dag it was the #1 floor filler at the Dorian Grey In Frankfurt! Creating/producing Germany's cult electro goth ultra stylists Diskowalküren who's stunning anthem 'Walküren' is still one of the #1 tracks on all Electro/Goth/EBM play lists more than 12 years after its release and working with Americas #1 lunatic outlaw industrial metalists/mentalists Ministry. A truly monster cover of JJCales Cocaine for Munich industrial metalists W.A.S.C.H in the late 80's and some wonderful stuff for The Cologne based Duft ( better known as Berlin based designer/artist Brit Leissler) There have been many many more and Garland considers himself to have been blessed by good fortune to have been together with his ex German partner Ilona (front frau of UBahnX & Diskowalküren whose stunning vocal sample can be heard on LYSERGIC SUSHI's beautiful 'Forever') in Düsseldorf during the 80's when it was the centre of the musical universe as far as electronic music was concerned, with Kraftwerk, DAF Neu, La Düsseldorf, Rhiengold, Tommy Stumph, Der Plan, Propaganda, Die Krupps, M.E.L.T and The Trash Groove Girls all living in the same city! Garland also worked for a long time in New York even working with such luminaries as 'The Sugar Hill Gangs Duke Bootee' (Edd Fletcher) who wrote 'The Message' for Grandmaster Flash in the legendary Unique Studios in Manhattan at the height of New York's Underground black-hispanic radio heyday, when mixer/producers like Shep Pettibone, Tony Humphries and Arthur Baker were reinventing what dance music was about.

Garland considers Matthew Leigh Embleton to be one of the most gifted and inspired producers, engineers and musicians he has worked with. An inspired master of sonic frequencies and arrangements Leigh Embleton brings an enormous amount of production and musical experience to the TPM audio alchamy.




IBG 2013